"Life isn't an answer, life is the question, and you, yourself are the answer."
"La vida no es una respuesta, la vida es la pregunta, y tu, tu mismo eres la respuesta."
Ursula K LeGuin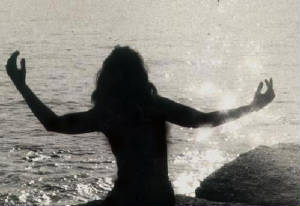 BLANK BEAUTY

Beautiful blank pages
kiss our
imaginations
with backgrounds
that demand precision.

Our black letters cross
on tightrope lines,
curving
without wavering
across deep, invisible currents.

These beautiful blank pages
are promises of our
reflections.
Our gentlest strokes
of darkness upon light.






THE POETS ROOM

has nothing in it.
No comfortable furniture,
no TVs, voices,
clocks ticking, nothing
except beats of air and blood
pulsing through your lungs.

You take a clean breath
and quietness comes in.

Your favorite films start flaring
on theatres of walls, whenever
you are brave enough
to chase your images
with words.

In a future with few blank walls,
libraries are hushed museums,
where crowds devour your books.
Others enter,
startled, tremulous.

Back to the Poets Room.
The bare room,
friendly in a dismal
daring way.

Here you can eat rocks,
jump precipices
and always recover, provided
you have pen and paper
to catch you.
________________________________________


"Composer Uncomposed" published in Buffalo Bones, Fall 1999

"Lack" published in Poetry Motel, 2000

"Blank Beauty" published in Writers Journal 2002

All poems on this page copyrighted by Judith Pordon
Permission to duplicate and distribute granted to all.





BELLEZA EN BLANCO

Hermozas paginas en blanco
besan nuestras
imaginaciones
con fondos
que exigen precisión.

Nuestras letras negras se cruzan
en las líneas de tightrope,
curvando
sin duda
a través de profundas, corrientes invisibles.

Estas hermozas paginas en blanco
son promesas de nuestras
reflexiones.
Nuestros movimientos más apacibles
de la oscuridad sobre la luz.


Translated by Maria Palacios



_________________________________________________
COMPOSER UNCOMPOSED


The only words that matte
are new.

They arrive in flares
on rushing breezes.

Snag them with a pen
at odd intervals in mid-stride.

Composed during conversations
wait

with ink in your blood,
for moments alone,

to be bare
before blank pages.


- Judith Pordon





Lack

there is no sound within

those are not your eyes looking out
you do not recognize anything
only silence

not even a buzzing
or hum

you are shattered into
intonations of other people
incessantly chattering

the more you try to hear
the less you hear

nobody ever mentioned
this terrible quiet

maybe no one
else has

heard
it.




Every new stage in consciousness is preceded by a sense of lack
M. Esther Harding